狄安娜兽
ディアナモン
Dianamon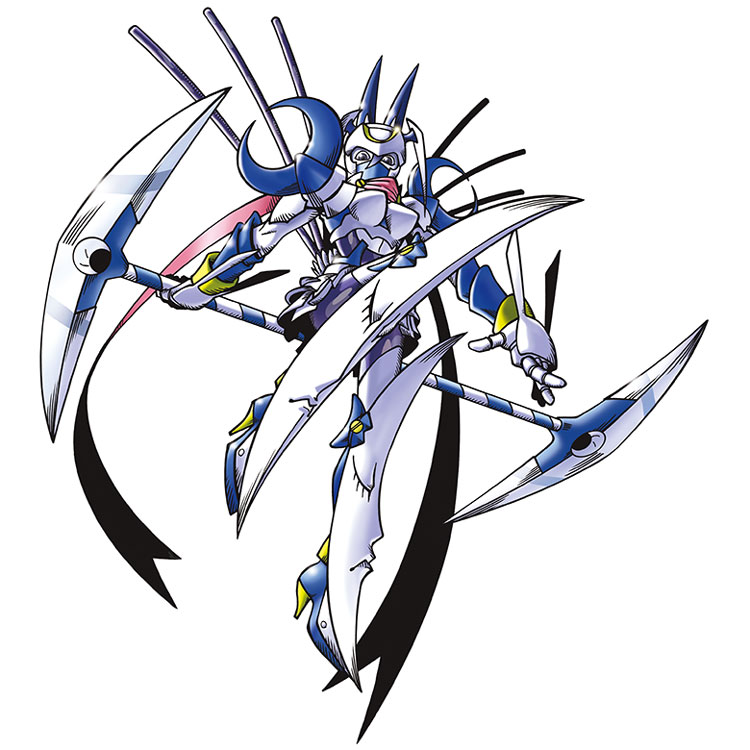 基本资料
| | |
| --- | --- |
| 等级 | 究极体 |
| 类型 | 神人型 |
| 属性 | 数据 |
| 所属 | 奥林匹斯十二神 |
| 适应领域 | DS、NSp |
| 首次登场 | 2007年3月 数码兽物语 月光 |
| 名字来源 | 拉丁语【Diana】狄安娜 [1] |
必杀技&得意技
| | | |
| --- | --- | --- |
| 新月吊钩 | Crescent Harken | クレセントハーケン |
| 月神之箭 | Arrow of Artemis | アロー・オブ・アルテミス |
| 晚安之月 | Goodnight Moon | グッドナイト・ムーン |
设定资料
奥林匹斯十二神族的一尊,掌管冰和水,在绝对零度状态下也能战斗的神人型数码兽。就像月亮的正面背面(光与暗)一样,具有双重性格,隐藏着美丽而可怕的力量。必杀技是用月之神秘力量使对手产生幻觉,一旦判断是自己的敌人就立刻将其切开的「新月吊钩」,以及从背部的突起处将细长而尖锐的令人炫目的冰矢拔出并放出去的「月神之箭」。此外,还有双腿的「晚安姐妹(Goodnight Sisters)」释放月光,诱使被沐浴到的对手入眠的「晚安之月」。
奧林匹斯十二神族之一,掌管水和冰,即使在絕對零度下也能戰鬥的神人型數碼寶貝。擁有如同月亮的表裡(光與暗)一般的雙面性格,在美麗外表之下潛藏著可怕的力量。必殺技是利用月亮的神祕力量使對手陷入幻覺,一旦判斷對方為敵人便會立刻將其斬碎的『新月鉤爪』,以及從背部突起處拔出細長尖銳又耀眼的冰箭來發射的『阿提米絲之箭』。此外還擁有能從雙腳的「晚安姐妹」釋放月光,誘使對手入眠的『晚安之月』。
オリンポス十二神族の1体で、水と氷を司り、絶対零度の状況下でも戦闘可能な神人型デジモン。月の表裏(光と闇)のように二面性をもった性格で、美しくも恐るべき力を秘めている。必殺技は、月の神秘の力で幻覚を魅せ、己の敵と判断すれば即時斬り裂く『クレセントハーケン』と、背中の突起から、細く鋭く長大な、眩いばかりの氷の矢を引き抜いて放つ『アロー・オブ・アルテミス』。また、両足"グッドナイトシスターズ"から月の光を放ち、浴びた相手を睡眠に誘う『グッドナイト・ムーン』をもつ。
A God Man Digimon that is one of the Olympos XII, Dianamon governs water and ice. It is capable of battle even in temperature below absolute zero. Its personality reflects the two-sided nature of the moon, having both dark and light sides, making this Digimon both beautiful and fearsome. Its special move is Crescent Harken, where it will draw on the mysterious powers of the moon to confuse its enemies with illusions, causing them to turn their attacks upon themselves. It can also use Arrow of Artemis, where it draws extremely long and thin ice arrows that are as sharp as they are dazzling from its back to fire it at enemies. In addition, its move Good Night Moon puts opponents to sleep by emitting moonlight from the Goodnight Sisters on its legs.
올림포스 십이신족의 하나로 물과 얼음을 관장하며, 절대 영도의 상황에서도 전투가 가능한 신인형 디지몬. 달의 앞과 뒤(빛과 어둠)처럼 양면성을 지닌 성격으로, 아름답지만 무시무시한 힘을 지니고 있다. 필살기는 달의 신비한 힘으로 환각에 빠뜨려 적이라고 판단한 상대를 즉시 베어내는 '크레센트 하켄'과 등의 돌기에서 가늘고 날카로우면서도 장대한, 눈부신 얼음 화살을 발사하는 '애로우 오브 아르테미스'. 또한, 양다리의 '굿나잇 시스터즈'에서 달빛을 쏘아 상대를 잠들게 하는 '굿나잇 문'을 갖고 있다.
Ein Gottheits-Digimon und Mitglied der Olympos XII, das über Wasser und Eis herrscht und bei den eisigsten Temperaturen kämpfen kann. So wie der Mond eine helle und dunkle Seite besitzt, hat auch seine Persönlichkeit zwei Seiten. Sein Spezialmove "Guter Nachtmond" überzieht den Gegner mit Mondlicht der Gute-Nacht-Schwestern an seinen Beinen.
注释
References
Diana,狄安娜。罗马神话中的月亮女神和狩猎女神,地位相对应于希腊神话的阿耳忒弥斯(Artemis)。