管狐兽(S)
クダモン(S)
Kudamon (S)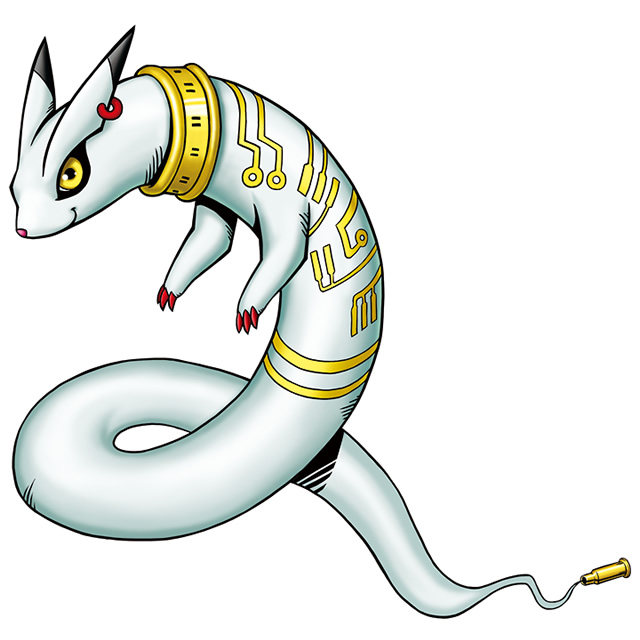 基本资料
| | |
| --- | --- |
| 等级 | 成长期 |
| 类型 | 圣兽型 |
| 属性 | 疫苗 |
| 所属 | |
| 适应领域 | VB |
| 首次登场 | 2006年4月 数码兽拯救者 第1集 |
| 名字来源 | 日语【管狐(クダギツネ)】管狐 [1] |
必杀技&得意技
| | | |
| --- | --- | --- |
| 弹丸旋风 | Dangan Senpuu | 弾丸旋風 |
| 绝光冲 | Zekkoushou | 絶光衝 |
| 圣弹 | Holy Shot | ホーリーショット |
设定资料
戴着神圣弹壳的圣兽型数码兽。据说左耳的耳环每天都在积蓄着神圣力量,积蓄的力量越多对接下来的进化越有影响。性格冷静沉着,在战斗中也能准确地判断状况,让战斗向优势方向发展。相反处于劣势时会进入弹壳中,拥有加固身体的防御技。必杀技是旋转着身体和弹壳一起撞击的「弹丸旋风」,以及从耳环发出巨大光辉使人目眩的「绝光冲」。另外,背后类似电路板的花纹在增加光辉的同时,会释放神圣光束「圣弹」。
身上裝備著神聖彈殼的聖獸型數碼寶貝。據說它左耳的耳環會日以繼夜地累積神聖力量,且累積的力量多寡將會影響下一次的進化。性格冷靜沉著,在戰鬥中也能確切判斷情況,將戰況由劣轉優。在陷入劣勢的時候,則可以躲入彈殼之中進行防守。必殺技為旋轉自己的身體,連同彈殼一起衝撞對手的『彈丸旋風』,以及從耳環發出巨大光芒,使敵人目眩的『絕光衝』。另外,在它背後的基板狀圖案發光時,還可以施放神聖的光束『神聖光擊』。
聖なる薬莢を身に着けた聖獣型デジモン。左耳のイヤリングに聖なる力を日々溜めていると言われ、蓄えた力が大きいほど次の進化に影響があるという。冷静沈着な性格をしており、戦いにおいても的確に状況判断を行って、戦いを優勢に進める。逆に劣勢になった場合は薬莢の中に入り、身を固める防御技も持っている。必殺技は、身体を回転しつつ薬莢ごとぶつける『弾丸旋風(だんがんせんぷう)』と、ピアスから発する大きな輝きで目を眩ます『絶光衝(ぜっこうしょう)』。また、背中の基板の様な模様が輝きを増した時に放つ聖なるビーム『ホーリーショット』をもつ。
A Holy Beast Digimon that carries a sacred shell case. The ring on its left ear is said to be steadily accumulating holy power, and the amount of power stored is believed to influence its next Digivolution. Level-headed and calm by nature, in battle it will assess the situation with precision to gain the upper hand. Should it find itself at a disadvantage, however, it can retreat inside its shell and use it as armor. Its special moves are Bullet Whirlwind, which allows it to spin its body, shell and all, to knock enemies off their feet, and Blinding Ray, which emits a blast of glaring light from its earring that dazzles the eyes. The pattern on its back resembles a circuit board, and when it grows in brilliance, it can also unleash a beam attack called Holy Shot.
신성한 탄피를 몸에 지닌 성수형 디지몬. 매일 왼쪽 귀걸이에 신성한 힘을 모으고 있다고 하며, 많은 힘을 저장할수록 다음 진화에 영향을 미친다고 한다. 냉정하고 침착한 성격으로 싸움에서도 상황을 정확히 판단해 싸움을 유리하게 만든다. 반대로 수세에 몰리면 탄피 속으로 들어가 몸을 단단하게 만드는 방어 기술도 갖고 있다. 필살기는 몸을 회전하면서 탄피째 부딪치는 '탄환선풍'과 총에서 발사되는 환한 빛으로 눈을 가리는 '절광충'. 또한, 등의 기판과 같은 모양이 빛을 강하게 발할 때 발사되는 신성한 빔 '홀리 샷'을 갖고 있다.
Ein heiliges Tier-Digimon, das immer eine heilige Patrone umschlingt. Der Ohrring an seinem linken Ohr, soll ständig heilige Energie sammeln. Er wirkt sich umso stärker auf die Digitation aus, je mehr Energie gespeichert ist. Durch sein gelassenes Wesen bewahrt es auch im Kampf die Ruhe und prüft die Lage, sodass es herausragende Erfolge erzielt. Befindet es sich in Gefahr, begibt es sich zu seinem Schutz in die Patrone. Sein "Blendstrahl" blendet Gegner mit starken Strahlen aus dem Ohrring.
注释
References
管狐,日本民间传说中能附身于人的一种妖怪,别名「饭纲」。
亚种或变形
Subspecies / Variations