光明兽
ルーチェモン
Lucemon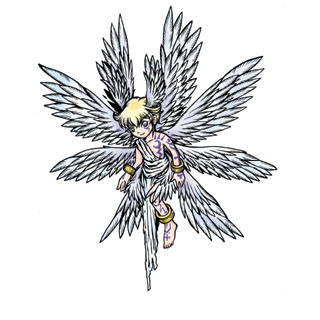 基本资料
| | |
| --- | --- |
| 等级 | 成长期 |
| 类型 | 天使型 |
| 属性 | 疫苗 |
| 所属 | |
| 适应领域 | VB |
| 首次登场 | 2001年12月 数码怪兽卡片游戏 Bo-610 |
| 名字来源 | 意大利语【Luce】光 [1] |
必杀技&得意技
设定资料
据说在遥远的古代数码世界降临,长着孩童模样的天使数码兽。相传在数码世界还处于混沌的时代出现,给这个世界带来了秩序与和平。但是,在这之后因为光明兽的「叛乱」,迎来了漫长的黑暗时代。虽说长着孩童模样,但拥有凌驾于完全体数码兽之上的力量与睿智。据说现在光明兽的能力被三大天使分割继承着。必杀技是将十个超热光球,以行星串联的形式呈十字形放出的「宏伟十字架」。此招威力凌驾于炽天使兽的「七重天堂」。
相傳降臨在遙遠的古代數碼世界,有著孩童外表的天使數碼寶貝。據說它在數碼世界尚處於混沌時現身,為數碼世界帶來了秩序與和平。然而,之後由於光明獸的「叛亂」,數碼世界迎來了漫長的黑暗時期。雖然外表是孩童,卻擁有凌駕完全體數碼寶貝的力量與智慧。據說目前光明獸的能力分別由三大天使繼承。必殺技是將10顆超熱光球如行星並列般以十字形放出的『宏偉十字架』。此招式的威力凌駕於究極天使獸的「七重天堂」。
遥か昔、古代デジタルワールドに降臨したといわれている、子供の姿をした天使デジモン。まだデジタルワールドが混沌としていた時代に現れ、この世界に秩序と平和をもたらしたと言われている。しかし、その後ルーチェモンの"反乱"により、永き暗黒の時代を迎えた。子供の姿をしているとはいえ完全体デジモンをも凌駕するほどの力と英知を持っている。現在ではルーチェモンの能力は三大天使に分割して受け継がれていると言われている。必殺技は10個の超熱光球を、惑星直列の様に十字の形で放つ『グランドクロス』。この技はセラフィモンの「セブンヘブンズ」を凌駕する威力を持つ。
An Angel Digimon with the appearance of a cherub that is said to have descended upon the ancient Digital World long ago. It appeared at a time when the Digital World was still in chaos and brought peace and order to the world. However, a dark era followed after Lucemon rebelled against all it once knew. Although its appearance is that of a child's, this Digimon possesses power and wisdom which surpasses even Ultimate Digimon. It is said that Lucemon's powers were inherited by the Three Archangels, who each hold only a portion of its power. Its special move is Grand Cross, in which it shoots ten super-heated balls of light arranged in the shape of a cross. This move is powerful enough to surpass Seraphimon's Strike of the Seven Stars.
먼 옛날 고대 디지털 월드에 강림했었다고 하는 어린아이의 모습을 한 천사 디지몬. 디지털 월드가 혼란스러웠던 시대에 나타나 이 세상에 질서와 평화를 가져왔다고 한다. 그러나, 그 후 루체몬의 '반란'으로 긴 암흑의 시대를 맞이했다. 어린아이의 모습을 하고 있지만 완전체 디지몬도 능가할 정도의 힘과 지혜를 갖고 있다. 현재 루체몬의 능력은 3대 천사로 나뉘어 계승되고 있다고 전해진다. 필살기는 10개의 초열광구를 혹성이 늘어선 것처럼 십자 모양으로 발사하는 '그랜드 크로스'. 이 기술은 세라피몬의 '세븐 헤븐즈'를 능가하는 위력을 갖고 있다.
Dieses kindlich aussehende Engels-Digimon erschien vor langer Zeit inmitten des Chaos in der Digitalen Welt. Nachdem es Frieden und Ordnung in die Welt gebracht hatte, führte ein Aufstand gegen Lucemon zu einer langen Zeit der Finsternis. Es sieht zwar aus wie ein Kind, doch seine Macht und Weisheit übertreffen die von Ultra-Digimon. Seine Fähigkeiten sollen auf die Heiligen Digiengel aufgeteilt worden sein. Sein "Großes Kreuz" erzeugt Lichtgeschosse in Kreuzform und ist äußerst mächtig.
注释
References
源自Lucifer,路西法。原本为天使中最美丽、最权势者,因拒绝向圣子基督臣服,率天堂三分之一的天使反叛,失败而堕落成撒旦。
设计与解析
Design & Analysis
原型
光明兽的造型源自《恶魔人(Devilman)》系列的反派角色撒旦,在该作中,撒旦原是拥有十二翼的至高天使,由于「神」深感恶魔丑陋打算将其毁灭而选择背叛神,在同恶魔一起击败神之后陷入沉睡,苏醒后却发现地球被人类所占据,便计划将人类毁灭。光明兽拥有六对羽翼、外貌为金发美少年这两点都是在致敬撒旦的经典形象。