普尼兽
プニモン
Punimon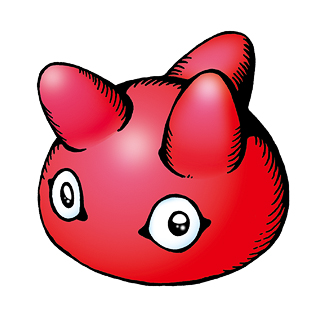 基本资料
| | |
| --- | --- |
| 等级 | 幼年期I |
| 类型 | 软泥型 |
| 属性 | |
| 所属 | |
| 适应领域 | |
| 首次登场 | 1997年12月 数码怪兽 Ver.2 |
| 名字来源 | 日语【プニプニ】柔软有弹性的 |
必杀技&得意技
设定资料
刚出生的新品种数码兽。凝胶状的红色身体软软的,头部长有三个触手状物。不能战斗,吐出强酸性的泡泡威吓敌人。
剛誕生的新種數碼寶貝。擁有紅色的軟呼呼凝膠狀身體,頭部生著三根像是觸手的東西。沒有戰鬥能力,只會吐出酸性很強的泡泡威嚇敵手。
生まれたての新種デジモン。ゲル状の赤い体はプニプニしていて、頭部には3つの触手のようなものが生えている。戦うことができず、酸性の強い泡をだして敵を威嚇する。
A newborn of a new kind of Digimon. Its red gelatinous body is squishy and there are three feeler-like appendages growing from its head. It cannot yet fight, so it blows acidic bubbles to intimidate its enemies.
갓 태어난 신종 디지몬. 붉은 몸체는 말랑말랑한 겔 상태이며, 머리 부분에는 촉수처럼 생긴 기관이 3개 돋아나 있다. 전투 능력은 없으며 강한 산성 거품을 뿜어 적을 위협한다.
Eine ganz neue Digimonart. Drei Tentakel ragen oben aus seinem gallertartigen, roten Körper. Es kann nicht kämpfen, bedroht seine Feinde aber mit Säureblasen.